Our Clients Testimonials About Eric Benavides
Having a lawyer that is everything that u desire and pray for really exist and his name is Eric Benavides.  My family was feel up with hope for my brother with not much money. Also he was facing jail time after he was violated on his probation.  But first time talking to Eric I felt like he care.  I was very confused on what was going on with my brother case.  Eric told me he would do everything he can do.  The next morning he shown up in court.  Then prove to me and my family that he love what he do and prove that he is the best lawyer to get in a crisis. To make a story short my brother was facing 2-10 years . First time I met Eric Benavides was the last because he finish my brother case and he will be home in 2 months which that was the best experience ever as well as scary .If they were more lawyers like Mr Benavides this world will be a better place. One thing I know me my family is grateful to have a family lawyer like Mr. Benavides. He will always have a special place in all our heart.

Thank you
Mr.Benavides is very professional and attentive. He did an excellent job throughout trial on getting me a not guilty verdict. He is very supportive and trustworthy lawyer. I highly recommend his firm, he will fight for the right causes. Very reasonable and I wouldn't of made it through this tough case without the help of Eric and Sammy. I'm very appreciative and happy I choose a great lawyer.

Thank you guys.
I've known Eric for many years. Very professional and responds very quickly. Thanks for all your help great job you did on my son's case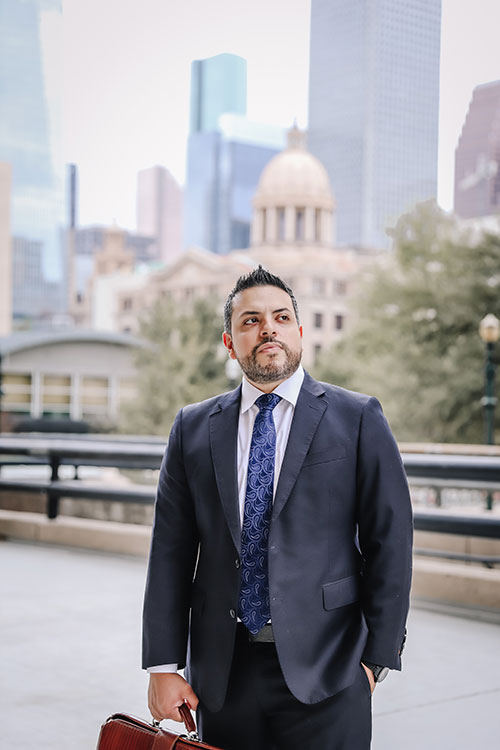 I had a DWI and hired Eric. I took the breath test but my case was dismissed. It was a tough case because I had an open beer in the car. My breath test was close to the legal limit so we fought the case hard. Eric got my case dismissed with no trial, it was awesome.
Hired Mr. Benavides to fight a criminal charge against a 17 year old teen. Eric was clear and most important concise with all possibilities of fighting the case. After seven months, he successfully got the case dismissed, and gave us back our peace of mind we had lost when all this happened. (Terroristic Threat-case dismissed)

Thank you, Eric.
Hired Mr. Benavides to fight a criminal charge against a 17 year old teen. Eric was clear and most important concise with all possibilities of fighting the case. After seven months, he successfully got the case dismissed, and gave us back our peace of mind we had lost when all this happened. (Terroristic Threat-case dismissed)

Thank you, Eric.
Mr. Benavides, is an awesome, smart, passionate, lawyer that will do what it takes to serve you. He was able to get my class B dismissed. While other lawyers keep advising me to just go through deferred adjudication, which would of been bad for my record, Mr Benavides gave me many better options that could be available to me if needed. That showed me he is very knowledgeable of Harris County's criminal system. I would definitely recommend him to anyone in need of legal representation/advice.

Thank You Eric Benavides
After doing my research on AVVO.com and calling around and speaking to different attorneys about my case, I decided to go with Eric. This was the best decision I could have made. He services are affordable, he is very attentive, and knowledgeable. After 6 case resets and some haggling with the DA, Eric was able to get my assault on a family member charge dismissed with the completion of a BIPP class. I would highly recommend Eric to represent you.
Eric and Sam are professionals and they know what they are doing. They helped me dismiss my DWI case in less than 3 months since I hired them. They work hard and kept me informed throughout the process. Their price is very reasonable and helped me split up my payments too. I'm extremely grateful and highly recommend to anyone who went through the same situation as I did.
I hired Eric Benavides and found him to be professional, courteous and very down to earth. I had several conversations with him before my court date and he answered all of my questions and guided me throughout the process. He spoke to the district attorney on my behalf and was able to get my entire case dismissed. I was very lucky and thankful to have such a kind attorney on my side.
Eric Benavides is an outstanding attorney that changed my life and future for the best. He went above and beyond to dismiss my 2nd DWI case. After months of sleepless nights, Eric and I met on May 13, 2015 for the last time and he granted me the best news I could ever hear, "Your case has been dismissed." I strongly recommend Eric Benavides for anyone that is in need of a TOP Attorney.

Thank you Eric Benavides for all your hard work!!!
I have had 2 cases in the last 3 years for assaulting a family member (wife). Both cases were false allegations. Eric and Sammy fought the cases even though the DAs kept dragging the cases on for no reason. Long story short, both cases dismissed. Justice boyyyy…
I had a case for assaulting a family member. I started with another lawyer and then I switched to Eric. The other lawyer wanted me to sign for probation. I didnt want to do that. Eric went in to fight the case and we decided to go to trial. In the end, instead of going to trial the DA told me to take a class and they would dismiss my case. That was an easy decision! Case dismissed.
We had cases for my kids where they needed help with immigration. This law firm was really good, and they helped my kids get status. Thank you very much Eric!
Eric Benavides did an excellent job getting my cases dismissed. I had a first time DUI case that was complicated by a Theft by check that I was unaware I had. I had previously hired an attorney before him who told me that there was not much hope and told me to accept the deal they were offering (at the first court appearance!) which would have ruined my career. Im so grateful that I found Mr. Benavides, he was willing to fight for me, made sure that I knew what all of our options were, and ultimately both cases were dismissed!

Thank you so much!!!
I had a DWI and was worried how it could affect me in the future. Eric was wonderful to work with. I felt I was wrongfully charged of DWI. I was roughed up by the police officer and I am over 50 years old and a female. We fought the case for many months and ended up in trial. At trial Eric did a great job talking to the jury and also when he questioned the officer who had assaulted me. At the end of the trial the jury found me not guilty of my DWI. Thank you so much for helping me, and for working with me with my payments.

I owe you the world.
I was very confused and nervous when I got into trouble for the first time in my otherwise normal life two months back. My husband and I first met Sammy who clearly laid out our options and court procedures. We chose him right away and were never disappointed. Both Sammy and Eric were very efficient and knowledgeable with criminal laws. Eric took up this case, was prompt in returning our calls, collected all required documents, went over matters in detail and promptly represented us on the court dates. His insight and intelligence got this case DISMISSED in just three court hearings. Moreover Eric is very poised in his approach.

His fees was very reasonable. Me and my husband were so impressed with him that we actually paid him more than we owed. This alone should speak for itself. Guys, out there reading this, really choose him as your lawyer and you will not regret it.
Mr. Benavides is an amazing lawyer who takes his job seriously and is very professional. He took care of my case in a timely fashion and everything went very smoothly. He always put me first and took his time to help me understand certain things I was confused about. I recommend Mr. Benavides to anyone who is looking for a lawyer.
I retained Mr. Benavides for a DUI case from November 2012. From the beginning he was very honest and forthcoming with information regarding my case. He clearly outlined the avenues we could take and gave me his professional opinion on what I should do. Anytime I needed to speak with him or ask any questions, he was always available to me , never judgmental, and treated me with the upmost respect. Many times I have gone to him with fears or concerns and he has put me at ease. I decided to enter into the Pre-trial Diversion Program and through the process with that, he has been available for questions and concerns. He will fight for you and is very dependable.

I would recommend anyone to him should they face a legal situation that needs representation.
Eric Benavides is a great lawyer. He took care of my case in a timely manner and very professional…and got my case dismissed! I would use him again if needed to. I highly recommend his services, Thank you Eric!
Excellent. Eric was very professional, he met with us any time we needed to see him and was always quick to respond to any questions or concerns. His price was reasonable and he was very professional.
I had many law firm brochures and flyers arrive at my home the day after i was released from jail. I had never been arrested, had no previous record , I was very devastated and in need of a lawyer. I read ALL the brochures, read reviews online and made a few calls. After speaking to Eric, I instantly felt confident and at ease. He explained the process, how long it could take, he was always polite and I also like the payment plans which were so helpful. I decided to write a review because I know that there are people out there wondering if there is a lawyer who will listen, give you options and who will try their hardest to get you what you deserve. I deserved to get my case dismissed and Eric Benavides made that happen!

Thank You Eric!
Eric is the best attorney always put his clients first always there to respond to my email or a call, I didn't have to go through this alone ,they're very patient get the job done right I had gotten and mistrial, Thanks Eric and Sammy I appreciate it very very much very please with their work very appreciate.
Eric was awesome! He ALWAYS returned calls immediately, never left us wondering and had a wonderful sense of confidence in the courtroom. Our case was dismissed after only a few court appearances. He was always prompt and well prepared. HIRE THIS GUY AND YOU WONT BE SORRY =)
I had an assault family member case dismissed by Mr. Benavides. He was ready for trial and they finally dismissed it. I saw him fight hard for me, and we went to court 7 or 8 times. I will send anyone in the future to Mr. Benavides. Thank you again and again
I had an assault family member case dismissed by Mr. Benavides. He was ready for trial and they finally dismissed it. I saw him fight hard for me, and we went to court 7 or 8 times. I will send anyone in the future to Mr. Benavides. Thank you again and again
Eric did an outstanding job with our cases. I will recommend anyone to use him if you have a problem. He gets the job done.
The most informative attorneys I have talked to. Very personable and really truly did all they could to do to help out my boyfriend. I would recommend Eric to everyone who wants someone that truly cares.
I really enjoyed working with Eric. He kept me well informed and was always looking out for my best interest. He will tell you like it is and not beat around the bush. we need more people like him to take there jobs seriously. You can tell he knows his stuff. I would recommend anyone to his services. You will not be disappointed.
My case was of criminal nature and time was against me in getting the charge dismissed so I could keep my job. I felt very secure having Mr. Benavides represent my case. He took great care of me and fought hard to get me the best deal with the DA to avoid going to trial and got my case completely dismissed! He kept me informed of any new information and was very patient with any concerns or questions I had throughout the whole process. I have his card in my wallet and his phone number in my cellphone in case I ever need him again and have already recommended him to some friends.
Mr. Benavides is a wonderful lawyer who helped me in my case. He is very smart, knowledgeable, and caring. He always put my needs first, and always explained everything very thoroughly for me when I didn't understand. I definitely recommend Mr. Benavides to everyone who is in need of a superb lawyer.
I highly recommend Mr. Benavides. Great human beings who practice law . They keep the client's best interest at heart . I have heard only praises from others who have used their services .
I can not begin to express how amazing this man is. He is more then a lawyer, but has become a family friend. I have a misdemeanor on my record that I am trying to take care of and because of him he's making that possible. Also, he was generous as to payment options with great prices. He helped set us up with payment plans.

Not only was he very informative and helpful on my current situation but he keeps up with me, as to see if I myself am keeping up with what I'm suppose to be doing. He also has helped me on other things, such as any complaints I have or troubles. Not saying I'm going to repeat my mistakes but if anything occurs in my future or anyone else's I know, he's the person I'll run too! By far, he has been such a great help! I would definitely recommend him to anyone. He is the best out there!
It is a shame how far we have Fallen… Honest Citizens are now Guilty until Proven Innocent. My case was Dismissed and prevented the Government from taking away my rights without a Burden of Proof.

Excellent Job.
I was falsely accused in Houston of a misdemeanor. Luckily, I was recommended to Eric Benavides. They talked to me about my case and then went out and got it dismissed on the first day of court. Thank you so much. I need a clean record!