Houston Criminal Attorney Eric Benavides has an impressive history of defending his clients.
This is a small sample of victories that have led to countless client testimonials. Every case is different, but you want an experienced criminal defense lawyer like Eric Benavides to help you understand your options and guide you through your case.
These case results are an example of the success that I have had in the past on criminal cases. You must understand that every case is very different. Just because I have won cases like yours before is no indication that your case will be dismissed. Again, this page offers absolutely no guarantees on potential outcomes in your case. For a free consultation on your situation, give me a call at 713-222-2828 and we will talk about it. 
Eric Benavides
Houston Criminal Defense Attorney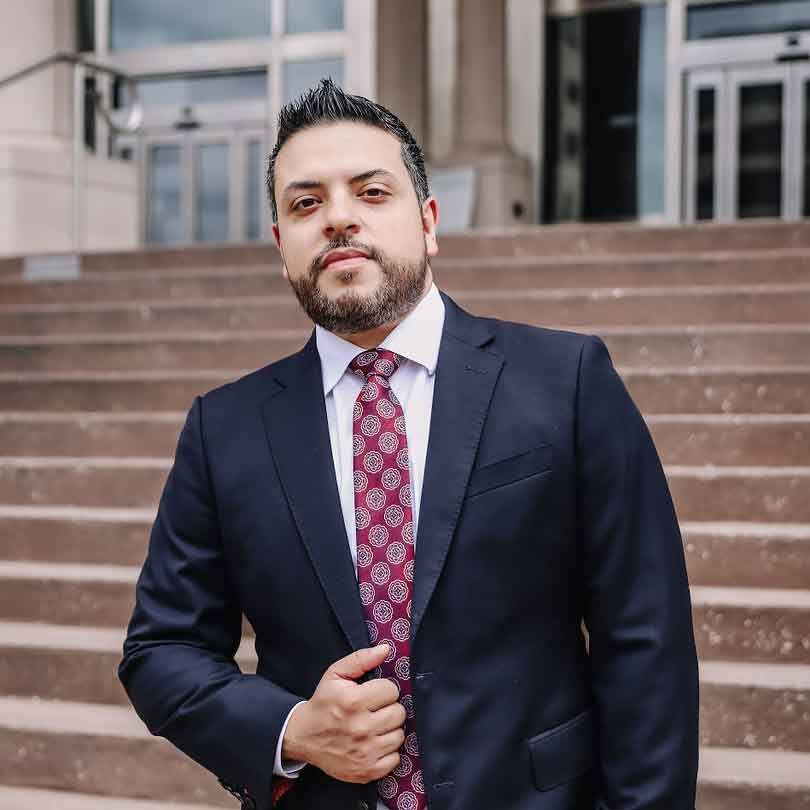 Key Case Results
DWI – NOT GUILTY!
State of Texas v. JC
Client pulled over for speeding and weaving from lane to lane.  Failed the sobriety tests and became belligerent with the officer after being placed in handcuffs.  Refused to do any interviews or tests in the jail, and continued to scream at officers.  Jury believed my theory that the tests were compromised by clients age and physical condition, and that anger does not equal intoxication.
---
DWI 2nd – NOT GUILTY!
State of Texas v. JM
Client pulled over for illegal turn and not using his signal.  Officers claim he smelled like alcohol, had an open container, and failed his sobriety tests.  Breath test was .098 which is over the legal limit.  The state's own experts admitted upon my questioning that my client could have been under the legal limit at the time of driving.  Jury understood that alcohol in the vehicle was not in my clients body.
---
DWI – NOT GUILTY!
State of Texas v. AV
Client pulled over for changing multiple lanes with no signal.  Officer claimed she smelled a strong odor of alcohol.  Client "failed" all sobriety tests, and blew a .096.  The jury understood that the breath test machine was not reliable and that the officers administration of the sobriety tests was flawed.
---
DWI 2nd – BLOOD SUPPRESSED DURING TRIAL!
State of Texas v. TJ
Police come into contact with client after a concerned citizen called 911.  Officer admitted under my questioning that he lied in his affidavit to get a search warrant to draw my client's blood.  Judge suppressed all blood evidence.  Under the circumstances, the State dismissed the case during trial.
---
DWI 2nd – ALL EVIDENCE SUPPRESSED DURING TRIAL!
State of Texas v. BM
Officer claimed that my client was failing to maintain a single lane and was driving illegally by going 50 mph in a 60 mph zone.  Under questioning the officer admitted that range of error on the radar could mean that my client was going 56 in a 60 (which is not illegal).  And while client did leave her lane, you see on the video that she did not do so in a dangerous manner (which is required under Texas law).  Judge followed the law, suppressed the stop, which makes all evidence afterwards illegal evidence.  Left with nothing, the State dismissed the case during trial.
---
Assault – Family Violence – NOT GUILTY!
State of Texas v. ED
Client peaked through a window and caught her husband cheating.  Husband claims she broke the window and threw multiple shards of broken glass at him and his mistress.  Client claims all she did was try to get into the window and husband pushed her out, causing her injuries.  Jury saw all of my clients injuries and realized that the husbands story just did not match the physical evidence.  While client had deep cuts on her legs and back (from being pushed out of the window onto the glass), she did not have one scratch on her hands.
---
Assault – Family Violence – NOT GUILTY!
State of Texas v. HG
Client's wife called 911, screaming and crying that she had been assaulted.  Wife claimed husband hit her multiple times in the face.  Wife later changed story and told truth that she was lying (did not appear at trial).  The jury saw through the lies.  Even though the 911 tape portrayed a terrified wife, the photos of her showed no injuries on the night in question.
| | | |
| --- | --- | --- |
| Case | Disposition | Type Of Action / Offense |
| The State of Texas vs. RL | Dismissed | DRIVING WHILE INTOXICATED |
| The State of Texas vs. IB | Dismissed | DRIVING WHILE INTOXICATED |
| The State of Texas vs. ER | Dismissed | DWI 2ND |
| The State of Texas vs. MAE | Dismissed | DRIVING WHILE INTOXICATED |
| The State of Texas vs. JJ | Dismissed | DRIVING WHILE INTOXICATED |
| The State of Texas vs. BC | Dismissed | DRIVING WHILE INTOXICATED |
| The State of Texas vs. BM | Dismissed | DWI 2ND |
| The State of Texas vs. MT | Dismissed | DRIVING WHILE INTOXICATED |
| The State of Texas vs. HH | Dismissed | DRIVING WHILE INTOXICATED |
| The State of Texas vs. AF | Dismissed | DRIVING WHILE INTOXICATED |
| The State of Texas vs. HH | Dismissed | DRIVING WHILE INTOXICATED |
| The State of Texas vs. WTC | Dismissed | DWI 1ST OFFENDER BAC>=0.15 |
| The State of Texas vs. RC | Dismissed | DRIVING WHILE INTOXICATED |
| The State of Texas vs. MF | Dismissed | DRIVING WHILE INTOXICATED |
| The State of Texas vs. WG | Dismissed | DWI 2ND |
| The State of Texas vs. MMM | Dismissed | DRIVING WHILE INTOXICATED |
| The State of Texas vs. EVP | Dismissed | DRIVING WHILE INTOXICATED |
| The State of Texas vs. HR | Dismissed | DRIVING WHILE INTOXICATED |
| The State of Texas vs. RT | Dismissed | DRIVING WHILE INTOXICATED |
| The State of Texas vs. JH | Dismissed | DRIVING WHILE INTOXICATED |
| The State of Texas vs. TJ | Dismissed | DWI 2ND |
| The State of Texas vs. EV | Dismissed | DRIVING WHILE INTOXICATED |
| The State of Texas vs. EJ | Dismissed | DWI 1ST OFFENDER BAC>=0.15 |
| The State of Texas vs. ER | Dismissed | DRIVING WHILE INTOXICATED |
| The State of Texas vs. DV | Dismissed | DWI 1ST OFFENDER BAC>=0.15 |
| The State of Texas vs. VM | Dismissed | DRIVING WHILE INTOXICATED |
| The State of Texas vs. TD | Dismissed | DRIVING WHILE INTOXICATED |
| The State of Texas vs. RME | Dismissed | DRIVING WHILE INTOXICATED |
| The State of Texas vs. LG | Dismissed | DWI 2ND |
| The State of Texas vs. EVR | Dismissed | DRIVING WHILE INTOXICATED |
| The State of Texas vs. DD | Dismissed | DRIVING WHILE INTOXICATED |
| The State of Texas vs. AL | Dismissed | DRIVING WHILE INTOXICATED |
| The State of Texas vs. VA | Dismissed | DRIVING WHILE INTOXICATED |
| The State of Texas vs. KR | Dismissed | DRIVING WHILE INTOXICATED |
| The State of Texas vs. AV | Dismissed | DRIVING WHILE INTOXICATED |
| The State of Texas vs. EV | Dismissed | DRIVING WHILE INTOXICATED |
| The State of Texas vs. HF | Dismissed | DWI 2ND |
| The State of Texas vs. EM | Dismissed | DWI 1ST OFFENDER BAC .08 |
| The State of Texas vs. DA | Dismissed | DWI 1ST OFFENDER BAC .08 |
| The State of Texas vs. VM | Dismissed | DWI 1ST OFFENDER BAC .08 |
| The State of Texas vs. MS | Dismissed | DWI 1ST OFFENDER BAC .08 |
| The State of Texas vs. JA | Dismissed | DWI 1ST OFFENDER BAC .08 |
| The State of Texas vs. MG | Dismissed | DWI 1ST OFFENDER BAC>=0.15 |
| The State of Texas vs. DR | Dismissed | DWI 1ST OFFENDER BAC .08 |
| The State of Texas vs. MA | Dismissed | DWI 1ST OFFENDER BAC .08 |
| The State of Texas vs. JF | Dismissed | DWI 1ST OFFENDER BAC .08 |
| The State of Texas vs. CS | Dismissed | DWI 1ST OFFENDER BAC>=0.15 |
| The State of Texas vs. OI | Dismissed | DWI 1ST OFFENDER BAC .08 |
| The State of Texas vs. JL | Dismissed | DWI 1ST OFFENDER BAC .08 |
| The State of Texas vs. LW | Dismissed | DWI 1ST OFFENDER BAC .08 |
| | | |
| --- | --- | --- |
| Case | Disposition | Type Of Action / Offense |
| The State of Texas vs. JR | Dismissed | AGG ASSAULT W / DEADLY WEAPON |
| The State of Texas vs. VM | Dismissed | AGG ASSAULT-FAMILY MEMBER |
| The State of Texas vs. SR | Dismissed | AGG SEXUAL ASSAULT CHILD |
| The State of Texas vs. JH | Dismissed | ASLT BY FAM / HOUSE MEM 2+ W / IN 12MTH |
| The State of Texas vs. EA | Dismissed | ASLT FAM / HOUSE MEM IMPED BRTH / CIRCU |
| The State of Texas vs. AL | Dismissed | ASSAULT-BOD INJ-FAMILY MEMBER |
| The State of Texas vs. GG | Dismissed | ASSAULT-BOD INJ-PUB SERV / RETAL |
| The State of Texas vs. JM | Dismissed | ASSLT FAM / HOUSEHOLD MEM W / PREV CONV |
| The State of Texas vs. RC | Dismissed | BURGLARY OF HABITATION |
| The State of Texas vs. KS | Dismissed | CRIMINAL MISCHIEF >=$2,500<30K |
| The State of Texas vs. MC | Dismissed | EVADING ARREST / DETENTION W / VEHICLE |
| The State of Texas vs. KA | Dismissed | EVADING ARREST / DETENTION W / VEHICLE |
| The State of Texas vs. RR | Dismissed | FAIL TO COMPLY AS SEX OFFENDER |
| The State of Texas vs. DJ | Dismissed | FELON POSS WPN |
| The State of Texas vs. AC | Dismissed | FORGERY GOVT FINANCIAL INST |
| The State of Texas vs. TR | Dismissed | FRAUD / USE / POSS ID INFO-LESS 5 ITEMS |
| The State of Texas vs. TT | Dismissed | FRAUD INTENT OBTAIN CS SCH III / IV |
| The State of Texas vs. GM | Dismissed | INJURY CHILD UNDER 15 B / INJURY |
| The State of Texas vs. ARM | Dismissed | INSURANCE FRAUD $1500-20,000 |
| The State of Texas vs. AL | Dismissed | POSS CS PG 1 1 – 4 GRAMS |
| The State of Texas vs. PT | Dismissed | POSS CS PG 2 1-4 GRAMS |
| The State of Texas vs. RO | Dismissed | POSS MARIJ 4 OZ. – 5 LBS. |
| The State of Texas vs. EC | Dismissed | POSS MARIJ 4 OZ. – 5 LBS. |
| The State of Texas vs. RR | Dismissed | POSS W / INT DEL CS PG1 1G <4 GRAMS |
| The State of Texas vs. KA | Dismissed | THEFT >=$30,000 <$150,000 |
| The State of Texas vs. SC | Dismissed | THEFT >=2,500 <30,000 |
| The State of Texas vs. CS | Dismissed | THEFT AGGREGATE =>2500<30K MULT CW |
| The State of Texas vs. CZ | Dismissed | THEFT>=$1,500<$20K BY CHECK |
| The State of Texas vs. AP | Dismissed | THFT MATERIAL ALUM / BRNZ / COPPR / BRASS |
| The State of Texas vs. MM | Dismissed | UNAUTH USE OF VEHICLE |
| The State of Texas vs. NT | Dismissed | VIOL. OF PROTECTIVE ORDER ENH. |
| The State of Texas vs. AS | Dismissed | DEADLY CONDUCT |
| The State of Texas vs. DA | Dismissed | INTERFERENCE W / EMERGENCY TELEP CALL |
| The State of Texas vs. ER | Dismissed | PROSTITUTION – NON PUBLIC OFFER |
| The State of Texas vs. ASH | Dismissed | PUBLIC LEWDNESS |
| The State of Texas vs. MC | Dismissed | RACING ON HIGHWAY W / ENHAN |
| The State of Texas vs. SM | Dismissed | RESIST ARR-SEARCH |
| The State of Texas vs. AGC | Dismissed | TERRORISTIC THREAT |
| The State of Texas vs. LJ | Dismissed | UNLAW CARRY WPN |
| The State of Texas vs. ES | Dismissed | CRIMINAL MISCHIEF >=$750<$2,500 |
| The State of Texas vs. HV | Dismissed | BURGLARY MOTOR VEHICLE – ENHAN |
| The State of Texas vs. AG | Dismissed | CARRYING HANDGUN IN MOTOR VEHICLE |
| The State of Texas vs. CG | Dismissed | CRUELTY NON-LIVESTOCK ANIMALS |
| The State of Texas vs. JM | Dismissed | DISPLAY FICTITIOUS LICENSE PLATE |
| The State of Texas vs. JR | Dismissed | FSGI ACC ATTEND DAMAGE VEH>=$200 |
| The State of Texas vs. JS | Dismissed | INDECENT EXPOSURE |
| The State of Texas vs. BFT | Dismissed | INHALANT PARAPHERNALIA |
| The State of Texas vs. TM | Dismissed | LIQUOR-VIOLATION |
| The State of Texas vs. CCF | Dismissed | RECKLESS DRIVING |
| The State of Texas vs. CW | Dismissed | TRESPASS PROP / BLDG-NO FORB ENT |