Is Your License Suspended Immediately After A DUI In Texas
DWI License Suspension In TX
A DWI charge means that you face both criminal proceedings against yourself and a civil case against your driver's license.  You face fines and jail time if you are convicted of a DWI and your driving privileges can be withdrawn if you lose your civil case. Fortunately, your license will not be suspended immediately you get a DWI charge, and you can prevent the suspension by requesting an Administrative License Revocation (ALR) hearing no later than 15 days after you were arrested. A trusted DWI attorney can evaluate your situation and let you know if your license is suspended immediately after a DWI or not.
Why Requesting An ALR Hearing Is Important
How To Check If Your License Is Suspended In Texas
Law enforcement will confiscate your plastic driver's license immediately but your license will be replaced with a Notice of Suspension that works as a temporary license for 40 days. If you do not ask for an ALR hearing, an automatic suspension will begin after 40 days.  Asking for this hearing puts on hold any license suspension even if the hearing is scheduled to happen after the 40-day limit for your temporary license.
What Happens At ALR Hearings?
How Long Does Your License Get Suspended In TX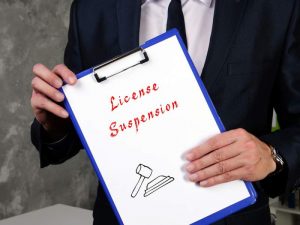 You can challenge the suspension of your driver's license at the hearing before the suspension goes into effect.  Since these hearings have different rules and requirements from court cases, you need an experienced DWI attorney to defend your driving privileges. Just like in a DWI hearing, the state needs to show that there was a reasonable suspicion to pull you over and a probable cause to arrest you.
They also have to prove that your blood alcohol content was 0.08 if you had had a breathalyzer test or blood test.
What Happens When Are Arrested For DWI?
DUI License Suspension Length
People arrested under suspicion of driving while intoxicated can have their driver's licenses suspended if they have a blood alcohol concentration of 0.08 or more, or if they refuse to take any sobriety tests.  Law enforcement will immediately confiscate your driver's license if you fail the test or refuse the test. But if they took your blood and did not test it immediately, they will send you a notification through mail that your license has been suspended.
They often use the address contained in your driver's license to send the notification.
What Is A Notice of Suspension Of  A Driver's License?
Do They Take Your License When You Get A DUI
Do not panic when you receive a notice of suspension of driver's license because it does not mean that you can no longer drive. That notice is just to remind you of your rights related to a suspended driver's license and to explain to you how to request a formal hearing of your suspension.
Since your plastic license would have already been confiscated by police when you receive the notice, you can use the Notice of Suspension as a temporary driver's license.
What Happens If You Lose The Hearing?
Is My Texas Driver's License Suspended
People who lose the ALR hearing can always appeal within 30 days after the results of their hearing have been posted.  With an appeal, you can continue using your temporary driver's license for an additional 90 days in which the appeal will be heard.  If you get acquitted from your DWI case while the appeal is pending, then your ALR case will be dismissed and you will get your license back.
Find DWI Law Firms Near Me